Having scored three goals in Canberra United's four matches in December, Flannery has helped Canberra United to third place on the Westfield W-League ladder and in strong contention for a Finals berth.
Upon hearing she had received the December nomination, Flannery was equally surprised and honoured.
"I am so honoured to receive this nomination," said Flannery.
"I am very humbled to be given the opportunity to play in the Westfield W-League and to be a member of such a professional, quality, family team like Canberra United."
"I want to thank my teammates and Rae (Dower) for believing in me and I look forward to learning more and continuing to develop as a player."
Flannery is the second player to be nominated for the Westfield W-League, NAB Young Footballer of the Year 2016/17 Award following Remy Siemsen (Sydney FC) who was the November nominee.
The Westfield W-League NAB Young Footballer of the Year 2016/17 will be announced at the Dolan Warren Awards Night.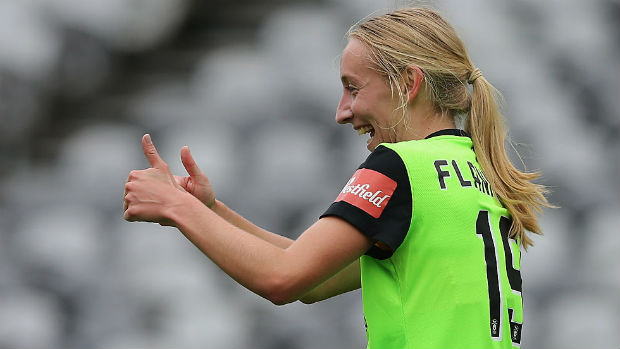 National Australia Bank's Head of Property Finance, Andrew Balzan said he is delighted to see the NAB Young Footballer of the Year Award continue to unearth the stars of tomorrow.
"We congratulate Nickoletta on her nomination and look forward to watching her development and growth on the football field in the years to come," said Mr Balzan.
"We are also pleased to recognise Nikki's nominated junior club, Woden Valley Soccer Club Juniors and hope that our support will help the club to continue developing the game at a local grassroots level."
NAB has generously donated a $1,500 NAB Club Recognition Award to Flannery's nominated junior club, which includes a range of equipment along with a financial reward.
The overall winner of the Westfield W-League, NAB Young Footballer of the Year 2016/17 Award will receive a $10,000 personal investment portfolio, along with a NAB Private Client Manager to assist with a range of banking and financial services.
"As a supporter of the NAB Young Footballer of the Year Award, we are proud to play an important role in identifying and rewarding the future stars of the game. Who knows, we may even see some of the nominees donning the boots for the Matildas in the future," Mr Balzan continued.
Each month representatives from the FFA Technical department vote on a 3-2-1 basis for the most outstanding U-23 players in the Westfield W-League during that period.
This article was originally published at: http://www.footballaustralia.com.au/article/flannery-named-december-nominee-for-nab-young-footballer-of-the-year/15sm5pw00gvht1qm2yz2oxe3sa.